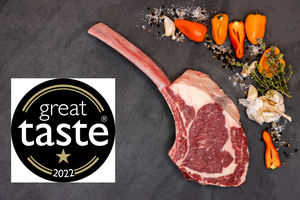 The ultimate wow factor steak!  Minimum 28-day aged, pedigree Hereford, 100% grass-fed and grass-finished Tomahawk steak. 
We are so pleased to have received a Great Taste award, here's what the judges had to say;
A very well butchered , juicy and tender steak with pleasant grassy aromas. The fat melted in our mouths and the flavour from the beef was subtle and delicious.
This steak looks very appealing when it arrived, with its dramatically long bone intact. It was very well cooked. The flavour of the beef was pleasant, mild and grassy. This is an enjoyable piece of beef. To take it to the next level, we'd like to see more flavour and length from the flesh and fat.
Wonderfully, intense beef aroma. Very juicy, umami rich flavour. Fairly lean piece of meat with fat lacking strong flavour.
This is an impressive looking piece of meat with a long bone sticking out. The aromas are meaty and mouth-watering.
Approx 1kg