We are a farm to fork butcher based in Richmond, North Yorkshire!
Fresh grass fed beef, free range pork, native breed lamb and local poultry delivered to your door.  The meat arrives in perfect chilled condition ready to cook or freeze.  No signature required. 
Our meat is sourced from our own farm, 5 miles from our shop in Richmond, N Yorkshire. 
We farm pedigree, native and often rare breeds of animal, in a natural, outdoor environment in order to produce the best quality, tasty and tender meat. We are passionate about regenerative and sustainable farming methods.
Through choosing to buy from us, you are supporting and encouraging better farming practices in this country.
Meet the team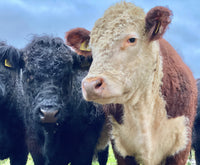 Featured collection - Outdoor reared Pork
OUR ANIMALS
It's more important than ever to know where the food you buy has come from.
You can be sure you are buying from a farmer who cares about their animals welfare.
Read more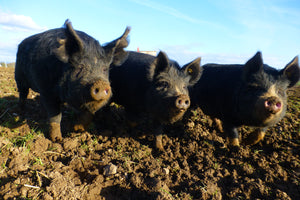 What makes the Berkshire Pig so special?
The pork we sell at our shop in Richmond and online is all sourced from our own farm less than 5 miles away at Tunstall (hence our company name!) near Catterick.
Read More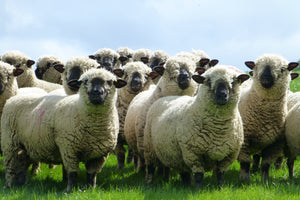 Our Hampshire Down Sheep
A fantastic native breed that does well on purely grass producing succulent, tender meat.
TMC IN THE PRESS!
We are The Northern Echo BEST BUTCHER!
The Tunstall Meat Company on Reeth Road in Richmond fought off strong competition to clinch the award which co-director Helen Bell said was a 'massive boost' for the staff during the busy December period...
Read more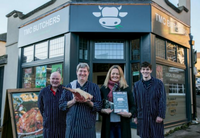 Testimonials
I will never go back to buying meat from anywhere else! To know the farm it has come from and that the animals are reared outdoors and grass fed is important to me.

Richard, Herts.
It's so tender and full of taste. Delivery is prompt every time and we look forward to it arriving every week!

Jane, Scorton
My cool bag of goodies arrived so quickly.  The bake at home pies are great for the family, a firm favourite!  And such a friendly delivery chap!

Katie, Catterick
our customer reviews

Trustpilot Reviews
We have hundereds of reviews on Trustpilot, one of the most trusted and transparent review sites in the world.
Read Reviews

Facebook Reviews
We have 5* reviews from lots of customers on our Facebook page - take a look at them here.
Read Reviews

Google Business Reviews
Our Google Business page has yet more excellent reviews from customers who've ordered online or visited our shop.
Read Reviews
Location
TMC Butchers
1 Reeth Road
Richmond, North Yorkshire
DL10 4EH
Mon - Fri - 8am - 12noon
Saturday - 8am - 12noon
Sunday - Closed
Tel 01748 822998 or 07825 982576
EMAIL robert@tunstallmeatcompany.co.uk